NETA webinars allow our members to participate in engaging discussions ton a variety of topics to increase skills and strengthen the long-term commitment to public media's education mission. We work closely with thought leaders throughout the system, including our PLC Executive Committees, to produce timely and content-rich online events. 
Archived NETA webinars and all associating materials can be found on publicmedialearns.org.
Fill out this form if you're interested in hosting a webinar, or contact us with any questions you may have.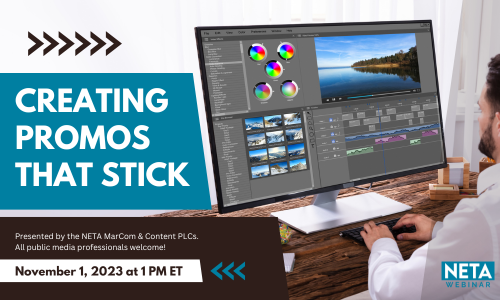 -
Dive into the exciting world of on-air promotions in the NETA Webinar Creating Promos That Stick.
Join Rob Elliot, on-air image/promotions manager for KET, for a dynamic discussion on shaping your promo's content with a clean and easily understood edit. Rediscover the importance of content comprehension, articulating your message, and identifying your audience, while exploring diverse strategies to captivate viewer attention.
Next, Bo Dodge, promotions producer/director at Iowa PBS, takes the stage with a hands-on tutorial on creating a motion graphics template (mogrt) in After Effects and applying it in Premiere.
This session provides a perfect blend of theory and practical knowledge, ensuring you walk away with a strong foundation in on-air promotion creation. So, get ready to craft engaging promos, steer clear of common errors, and make your mark in media.
Presented by the MarCom and Content NETA Peer Learning Communities.