NETA webinars allow our members to participate in engaging discussions ton a variety of topics to increase skills and strengthen the long-term commitment to public media's education mission. We work closely with thought leaders throughout the system, including our PLC Executive Committees, to produce timely and content-rich online events. 
Archived NETA webinars and all associating materials can be found on publicmedialearns.org.
Fill out this form if you're interested in hosting a webinar, or contact us with any questions you may have.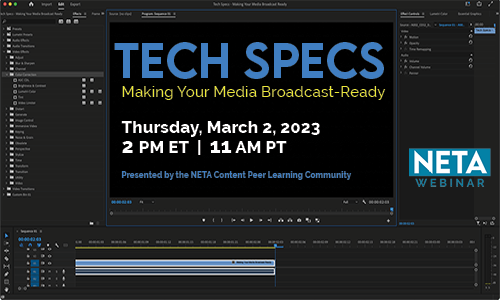 -
Is your latest production ready for broadcast? Would you like a refresher on broadcast levels, caption placement, and other things needed to ensure your media is legal for local broadcast and ideal for national distribution? 

Join us for a presentation by Pillar To Post as they give an overview on how to make sure your production passes technical evaluation on the first try. Register now.

This webinar is presented by the NETA Content Peer Learning Community.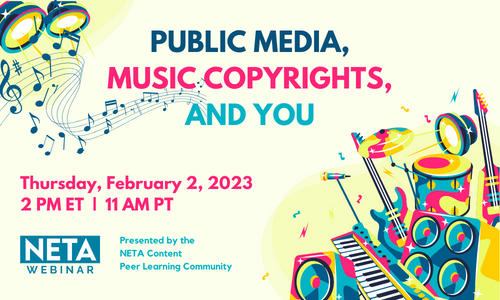 -
So, you've created a beautiful documentary/spot/podcast and chosen the perfect music to accompany it. Is it legal to use it for broadcast? Post it on Media Manager? How about on Facebook or YouTube? Join Lauren Koch, director of music copyright at PBS, as she explains what you can and can't do. Register for the webinar.
Download the latest PBS Music Licensing Overview (PDF)