NETA webinars allow our members to participate in engaging discussions ton a variety of topics to increase skills and strengthen the long-term commitment to public media's education mission. We work closely with thought leaders throughout the system, including our PLC Executive Committees, to produce timely and content-rich online events. 
Archived NETA webinars and all associating materials can be found on publicmedialearns.org.
Fill out this form if you're interested in hosting a webinar, or contact us with any questions you may have.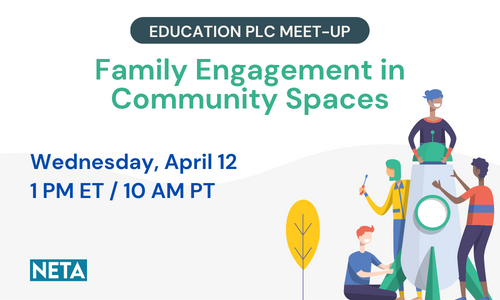 -
Station education teams are perfectly positioned to support family engagement in their communities because there are endless ways to support kids and the grown ups in their lives using trusted PBS KIDS media. Whether you are new to family engagement or you've been around the neighborhood a while, there is always a new idea out there to grab. Come share your approach to supporting families with your peers and maybe even pick up something new to use in your community.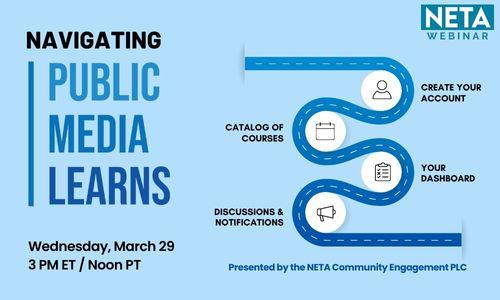 -
Join us for a deep dive into the Public Media Learns (PML) platform. PML is the latest tool essential for everyone in public media, no matter their area of discipline. PML offers a collaborative space for NETA member stations to experience community and expand the skills needed to further the mission of public media.

Are you new to public media? Have you heard about PML but never had the time to explore the platform until now? Have you visited the site but have questions about how to use the platform? NETA's Tim Eernisse will provide a complete overview of how to register for PML courses, access the NETA webinar archive, connect with peer learning communities, and everything PML has to offer member stations.

This NETA webinar is presented by the NETA Community Engagement Peer Learning Community.