NETA webinars allow our members to participate in engaging discussions ton a variety of topics to increase skills and strengthen the long-term commitment to public media's education mission. We work closely with thought leaders throughout the system, including our PLC Executive Committees, to produce timely and content-rich online events. 
Archived NETA webinars and all associating materials can be found on publicmedialearns.org.
Fill out this form if you're interested in hosting a webinar, or contact us with any questions you may have.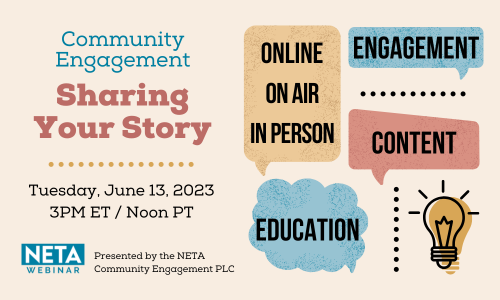 -
The community engagement work of public media stations is a core part of our mission, but is your story being told effectively? This webinar will discuss methods of telling the story of your station's community engagement efforts both internally and externally. On-air spots, printed material, community partners, board of directors/community advisory boards, station staff, and social media.
Learning Goals / Key Takeaways:
Broadcast strategies
Social media strategies
Internal communication strategies
Creating SOPs and project checklists
Moderator: Darren LaShelle, President & CEO NorCal Public Media, NETA Community Engagement PLC executive committee member
Presenters:
Caryline Clark, Engagement Manager, Iowa PBS
Emmalee Hackshaw, Vice President for Community Engagement, Georgia Public Broadcasting
Cari Kozicki, Vice President, Project Management, Lehigh Valley Public Media
Jasmin Valdivia, Marketing Coordinator, Utah Education Network
Nancy Rogan, Community Engagement Officer at WHRO Public Media
Presented by the NETA Community Engagement PLC.